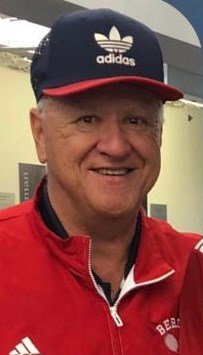 Obituary of Rex C. Smith
Rex Campion Smith, 71, of Farmington, died Wednesday, at the John Dempsey Hospital in Farmington. Born in Cheshire, he graduated from Cheshire Academy and Central Connecticut State University. After serving four years in the U.S. Navy, in Vietnam, he taught at St. Paul's High School in Bristol for four years and then taught and coached tennis at Berlin High School for 38 years. A huge basketball fan, Rex kept the stats for the C.C.S.U. Basketball team for several years. He was predeceased by his wife Danuta (Konieczny) Smith and his parents, Marion and Malcolm Smith.
Rex is survived by his sons, Augie J. Smith and Toby J. Smith, both of Farmington; a brother-in-law and sister-in-law Richard and Bernadette Bartosch, his mother-in-law Donna Konieczny; his partner for life Patricia Albanese and her daughters Carolyn Salerno and Liza Chenette; and family friends Scott and LeAnn Trevethan and family, Nancy and Sebby Testa and family, Tim and Eileen Thurston and family, and the Berlin High School Family.
Funeral services will be held Saturday (Nov. 10, 2018) 9:00 AM from the Farrell Funeral Home 110 Franklin Square New Britain, with a Mass of Christian Burial at 10:00 AM at St. Paul Church 485 Alling St. Kensington. Burial will be at the convenience of the family. Visitation will be held Friday (Nov 9.) from 3:00 – 7:00 PM at the funeral home. In lieu of flowers; donations may be made to http://gofundme.com/6d2pfgw.
Proudly Serving the Communities of New Britain, and surrounding areas.