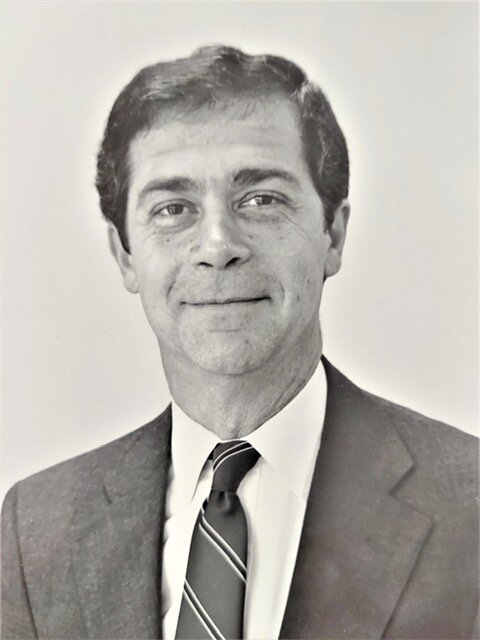 Obituary of John S. Manning
Please share a memory of John to include in a keepsake book for family and friends.
John S. Manning, 83, of Kensington, CT, and Shelter Harbor, RI, passed away peacefully with family members on October 21, 2022. He was the devoted husband of Brenda (Argosy) Manning, with whom he shared 61 years of marriage. They had met ice skating as teenagers at New Britain's Walnut Hill Park. Born in Hartford, John grew up in New Britain and attended local schools. After high school, he enlisted in the army and joined the 82nd Airborne Division at Fort Bragg, NC. For two years he was stationed in Mainz, Germany, proudly serving as a paratrooper. Working in the base's accounting office, he discovered an interest in finance, and when he returned to Connecticut, he began a banking career at New Britain Bank and Trust Company. John took finance and banking courses at UConn and graduated from the National Trust School at Northwestern University.
Over John's twenty years at New Britain Bank and Trust, he was promoted to Senior Vice President and Head of the Trust Department, where he greatly enjoyed working with his customers and community. In 1980, ready for a new challenge, he took on the role of President of Farmington Valley Savings and Loan in Farmington. This startup bank merged with Connecticut Bank and Trust in 1986, where John continued to serve as Vice President. A new opportunity came in 1987, when he joined a group of investors to start a new institution in New Britain, First City Bank. After years organizing the bank, John opened First City's doors in 1989. He greatly appreciated the chance to ring the opening bell on the American Stock Exchange in 2000, when the bank went public. First City became a popular community institution where John's office was always open to meet with customers. In 2004, First City was purchased by Webster Bank, shortly after which John retired.
Over the years, John served as trustee and board member of many charitable and community groups. He was Chairman of New Britain General Hospital (now the Hospital of Central Connecticut), the New Britain YMCA, and the Jerome Home/Arbor Rose; Treasurer of the New Britain Museum of American Art and the Central Connecticut State University Foundation; and a director of the New Britain Institute, Hartford Hospital, the Connecticut Enterprise Center, the Boys and Girls Club of New Britain, the Visiting Nurse Association of New Britain, the New Britain Chamber of Commerce, and the Municipal Economic Development Agency. John was honored to receive the Chamber of Commerce's Distinguished Service Award in 2004.
John's involvement in other organizations included Director of Bankers Bank Northeast, President of Connecticut Community Bankers Association, and Director of the Herald Publishing Company. After retirement, John's community involvement continued as President of Shuttle Meadow Country Club, where he and Brenda had been members for decades, and as a member of the Finance Committee of the Shelter Harbor Fire District in Westerly, RI.
John was known for his quick wit and was an enthusiastic amateur photographer, long-distance bicyclist, and avid tennis player. John also cherished his weekends and summer vacations in Shelter Harbor with his young family. Later in life he enjoyed golfing at the nearby Weekapaug Golf Club with family and friends. After retiring, he spent more time in RI, where he enjoyed golfing, boating, clamming, fishing, and crabbing with his grandchildren every summer.
John is survived by his wife Brenda, son Gregory and his wife Amy, daughter Allyson Jaye and her husband Gary, and his beloved grandchildren Abigail and Olivia Jaye and Anthony and Joseph Manning.
A service of remembrance will be held on Saturday, November 5, at Farrell Funeral Home, 110 Franklin Square, New Britain, CT 06051. Calling hours will be 10:00-11:00AM, followed by the service.
In lieu of flowers, the family asks that donations in John Manning's memory be made to:
The New Britain Museum of American Art, 56 Lexington Street, New Britain, CT, 06052;
http://www.nbmaa.org/support-us?loxi_pathname=%2Flist%2Ffuture%2F1#giving
or to
The Boys & Girls Club of New Britain, 150 Washington Street, New Britain, CT, 06051;
Proudly Serving the Communities of New Britain, and surrounding areas.