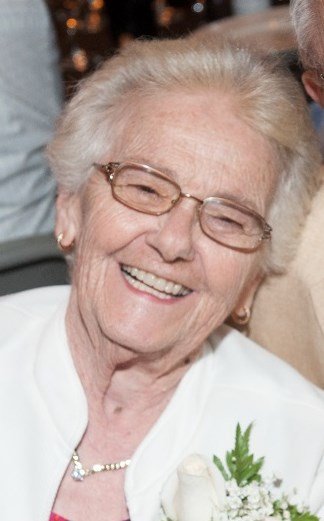 Obituary of Anna Marie Michaels
Anna Marie (Thompson) Michaels, 79, of Kensington, passed away on Saturday, January 12, 2019. She is predeceased by her husband of 52 years, Lawrence Michaels. Anna Marie was born in New York, NY on January 13, 1939, to the late James and Rose (Mongillo) Thompson. A graduate of Western Connecticut State University, she then went on to get her Masters from The University of Hartford where she met her husband Larry. Anna Marie taught math and English in the Middletown school district for nearly 30 years. After retiring, she and her husband owned Main Street Package Store in Berlin for 12 years. She also spent summers with her family at Beehive Field in New Britain as a ticket taker.
She is survived by her daughter Jean Dmytruk and her husband Joseph of Cumberland, ME, and son Lew Michaels and his wife Kristen of Wethersfield. She also leaves behind many grandchildren, her granddaughter Cady Michaels, as well as Brandi Dmytruk, Jazylin Dmytruk, Joseph Dmytruk, Ryan Dmytruk, Andrew Michaels, Alexander Michaels and great-grandson Franki Merced.
Funeral services will be held Wednesday January 16, 2019 at 9:00 a.m. from the Farrell Funeral Home, 110 Franklin Sq., New Britain, with a Mass of Christian Burial at 10:00 a.m. at Church of the Incarnation, 544 Prospect St, Wethersfield, CT. Burial will follow at St. Mary Cemetery, New Britain. Calling hours will be Tuesday from 4-7 p.m. at the funeral home.
Proudly Serving the Communities of New Britain, and surrounding areas.