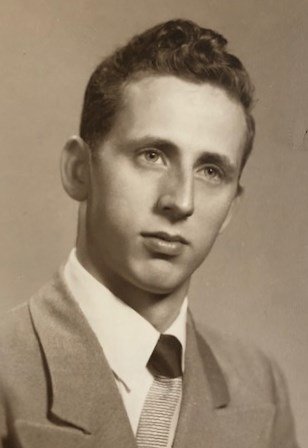 Obituary of George Fazzina
George Fazzina, 85, of New Britain, CT died Sunday (Oct. 14, 2018) at the Hospital of Central CT after a short battle with cancer. He was born in New Britain on July 13, 1933 the son of George & Josephine (Amenta) Fazzina. He grew up in New Britain and was educated in the local school system, graduating from NBHS in 1953. Following high school he joined the Marine Corps where he served from 1954 until 1957.
Following his military service he returned to New Britain where he met the love of his life, Lorraine. Together they raised three children and built a life including many life-long friendships. George worked at Fafnir Bearings where he was also a Union Representative for local 133, retiring in 1993 when Fafnir closed their New Britain facility. He was proud to represent the bargaining unit in contract negotiations and other union affairs.
George was a true animal lover. He and Lorraine were parents to many fur babies throughout their lives and would often take in wayward dogs, always making room for just one more when called upon. In addition, George also loved the ponies and prided himself on his handicapping abilities. After his retirement from Fafnir's, you might find him at his other "office" OTB, where he has made many special friendships that were very important to him and offered him support and words of encouragement during his illness.
Mr. Fazzina is survived by his wife, Lorraine (Sinkiewicz) Fazzina, three children George and his wife, Linda Fazzina of West Hartford, Jill Buchas of Kensington, and Jean Hemsley of Cromwell; five grandchildren, Shari and her husband Ben Whittaker of Niantic, Louis Buchas of Kensington, Andrea and her husband T.J. Schneider of Meriden, Jack Hemsley of Cromwell , Cillian Fazzina of West Hartford and one great grandchild, Avery Whittaker of Niantic and several nieces and nephews.
A celebration of George's life will be held Friday (Oct. 19, 2018) at 1:00 PM at the Farrell Funeral Home 110 Franklin Sq. New Britain. Military honors will be performed following the service at the funeral home. Burial will be private. Visitation will be Friday from 11:00 to 1:00 PM at the funeral home. In lieu of flowers, his family requests that memorial donations in George's name be made to Pets in Need c/o Veterinary Specialists of CT, 993 North Main Street, West Hartford, CT 06117.
The Fazzina family would like to thank the C5 nurses at the Hospital of Central CT for their care and compassion.
Proudly Serving the Communities of New Britain, and surrounding areas.