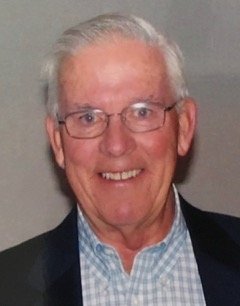 Obituary of John Brian Gaffney
John Brian Gaffney, 85, passed away peacefully on June 9, 2018. Brian Gaffney was born in New Britain on March 25, 1933. He is the son of the late Attorney Cyril F. Gaffney and Helen Downes Gaffney Sullivan.
Brian is survived by his loving wife of 58 years, Mary Louise Blinn Gaffney, his children and spouses Mary Alicia and Richard "Fritz" Conway, Laura and Tom Anderson, Kateri and James Howard, Cyril Gaffney, Jay and Maura Gaffney, Michael Gaffney and Allison Hall and his brother, Judge Bernard D. Gaffney. He is also survived by thirteen cherished grandchildren Meghan and Richard Conway, Keli and Elena Anderson, Hayley, Mary, and Anna Howard, Joseph, John, Daniel, and Liam Gaffney, Kate Hall, and Jack Gaffney. Brian, lovingly known as Poppy to his grandchildren, was never happier than when he was surrounded by his family.
He spent his early school years in New Britain, graduated from The Abbey School of Simsbury in 1951, the University of Notre Dame in 1955, and Fordham University School of Law in 1958. He began practicing law in New Britain in 1960 with his uncle John (Jack) Downes. Fifty years later he retired from a very successful law practice that had been continuously run by his family for over one hundred years.
His career went beyond practicing law when, in 1962, he was recruited by then New Britain mayoral candidate, Tom Meskill, to run for alderman. He served two terms as alderman and three terms in the state legislature representing his beloved City of New Britain. In addition to his service to New Britain and the State, he was a part of Meskill's successful campaigns for Mayor, Congressman and Governor. He served as Chairman of the Connecticut Republican State Party from 1971 to 1974 and became the mentor to a cadre of Republican political activists known as the "Kiddie Core." He co-chaired the Connecticut campaigns for Reagan in 1984 and George H.W. Bush in both 1988 and 1992. In 1984 he partnered with George Bennett and Jay Malcynsky to create Gaffney, Bennett and Associates, one of the leading government relations firms in Connecticut today. He served on various bank boards including the Burritt, Fannie Mae, and the Federal Home Loan Bank of New England. He was also active locally at the YMCA, Catholic Family Services, and Boys and Girls Club.
Never at a loss for words and always in search of an audience, Brian enjoyed debating any political topic and weaving a good tale. He was an avid golfer and a life long member of the Shuttle Meadow Country Club. He loved to ski and earned his pilot's license with his wife MaryLou. He had a keen interest in his family's genealogy tracing his family from New Britain, CT to San Patricio, Texas to a small farm in the Village of Ross, County of Meath, Ireland. Perhaps his greatest passion was Fighting Irish Football. He traveled yearly to South Bend to attend football games and tailgate with his roommate, Artie Johnson and cousin, John Downes.
He lived a complete and rewarding life blessed with a loving family and more best friends than one could count. He will be remembered as a man of great spirit, love and kindness. He will be sorely missed by his entire family.
Funeral services will be held Friday (June 15th) starting at the Farrell Funeral Home 110 Franklin Square, New Britain, CT at 10:30AM with a Mass of Christian Burial at 11:30 AM at St. Paul's Church 485 Alling Street, Kensington. Burial will follow in St. Mary's Cemetery, New Britain. Visitation will be held Thursday from 4:00 – 7:00 PM at the funeral home.
Memorial donations may be made to the New Britain YMCA, 50 High St. New Britain, CT 06051 or The Boys & Girls Club of New Britain, Golf Program, 150 Washington St. New Britain, CT 06051.
Proudly Serving the Communities of New Britain, and surrounding areas.