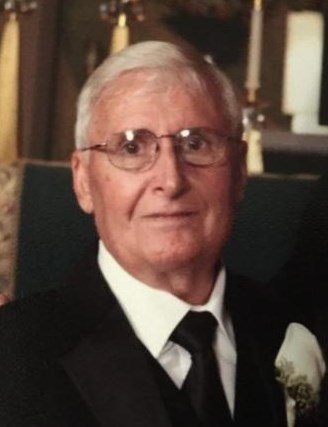 Obituary of Vincenzo Monaco
Vincenzo Monaco, age 84, passed away peacefully surrounded by his family after a short illness. He was the beloved husband of Lucia Monaco (Oteri) for 43 happy years. Vincenzo was born March 26, 1933 in Palazzolo Acreide, province of Siracusa, Sicily, Italy. He was the son of the late Santo and Marietta (Caligiore) Monaco. Vincenzo came to the U.S. in 1971, and was a long time resident of New Britain, and then Kensington, CT. He worked hard to support his family, and was proudly employed for several decades at Colt's Firearms in Hartford and West Hartford. His happiest moments were spent with family and friends, but he also found great pleasure in his ever-expanding backyard garden or tinkering on a variety of home projects. He was also a man of great faith, and a long-time parishioner of St. Ann's Church in New Britain.
He will be dearly missed by his children, Santo Monaco and his wife Lina of Wethersfield, and his daughter Maria Monaco of Kensington, as well as his brother Giuseppe Monaco, sisters Marianna Fiducia and Vincenza Fiducia of Italy, his brother-in-law Rosario Oteri and wife Karen and family of Barkhamsted, as well as his brother-in-law Antonio Oteri and wife Maria and family in Italy. He was predeceased by his sister Maria Milluzzo and her husband Sebastiano of Hartford. Vincenzo also leaves his nephews Santo Milluzzo, wife Alfina, and family of South Windsor, and Salvatore Milluzzo, wife Norma, and family of Tacoma, WA, as well as his nephew Paul Gervasi and niece Pierra French, husband Kevin, and family of New Britain and many other nieces and nephews in Italy. Vincenzo's family would like to express their gratitude to the entire staff of doctors, nurses, and aids from UCONN Health, for their compassion and care as well as his friends and neighbors for their acts of kindness and support during his illness.
Funeral services will be held Monday (Oct.23, 2017) 9:00 AM from the Farrell Funeral Home 110 Franklin Sq. with a Mass of Christian Burial at 10:00AM at St. Ann's Church North St. New Britain. Entombment will follow in St. Mary Cemetery Chapel Mausoleum New Britain. Visitation will be Sunday from 5:00 to 7:00 PM at the funeral home. In lieu of flowers, donations may be made to UCONN Cancer Center Research Fund. Checks should be made payable to UCONN Foundation, Inc. (Include Vincenzo Monaco in check note), and mailed to the following address: 2390 Alumni Drive, Unit 3206, Storrs, CT, 06269.
Proudly Serving the Communities of New Britain, and surrounding areas.