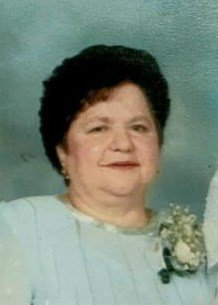 Obituary of Luba Malisz
Luba Malisz, 85, of Kensington, passed away peacefully, Wednesday, (January 9, 2019), at the Autumn Lake Convalescent Home after a long illness. She was born in Mokre, Ukraine to the late Anna and Mychajlo Melnyk. She was a devoted mother to her son Joseph and daughter Lydia Duperrault, her husband Glenn, of Southington, and her beloved granddaughter Amanda Cohen and her husband Todd, of Marlborough. Luba was a devoted parishioner of St. Josaphat Ukrainian Catholic Church in New Britain where she loved to lend a helping hand after retiring from the Hospital of Central Connecticut in 2000.
Luba is also survived by her siblings: Emil Melnyk of North Port, FL, John Melnyk and wife, Steffa, Helena Shulewsky and her husband, Michael all of Kensington, Mary Diack of Long Island, Walter Melnyk and wife, Wanda of Newington, and Sophie Vigue and husband, Richard of Southington, and many nieces and nephews. The family would like to thank the staff at Autumn Lake and Hospice for their care.
Funeral services will be celebrated Saturday (Jan. 12, 2019) at 9:00 AM from the Farrell Funeral Home 110 Franklin Sq. New Britain, CT. with a service at 10:00 AM at St. Josaphat Ukrainian Catholic Church 303 Eddy Glover Blvd., New Britain, with burial to follow at St. Michael Ukrainian Cemetery 1458 New London Turnpike, Glastonbury, CT. Family and friends may call Friday (Jan. 11, 2019) from 5:00 to 8:00 PM, with a Panakhyda Service at 7:00 PM at the funeral home. Donations may be made in Luba's memory, to St Josaphat Ukrainian Church. To send a condolence, please visit www.FarrellFuneralHome.com.
Proudly Serving the Communities of New Britain, and surrounding areas.