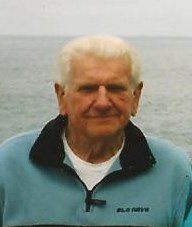 Obituary of Joseph Piatek
Joseph A. Piatek (Peatak), 95, of New Britain, died Tuesday, March 6th at Shady Oaks Assisted Living of Bristol. He was the son of the late Joseph and Mary(Svitana) Piatek and husband of the late Beatrice (Napert) Piatek. Born in New Britain, he was a lifelong resident and a World War II U.S. Navy Veteran serving in the South Pacific arena. He had been employed for 39 years at The Stanley Works in New Britain. While employed there he was very involved with the IAMAW labor Union. He was a loyal and active member of All Saints Church until it's closing and then at St. Ann's Church. For many years, Joe was involved with Walicki Little League Baseball serving as a manager. Upon retirement he was an avid golfer, a fan of Notre Dame Football, The Boston Red Sox, and especially UCONN Women's Basketball.
Mr. Piatek is survived by four sons, Joseph and his wife Karren Piatek of Maine, Richard and his wife Gail Piatek of Bristol, Ronnie Piatek and Leslee Janusonis of Bristol and James and his wife Lisa Piatek of Burlington; his grandchildren, Michael Piatek, Kimberly and Brian McNeil, Marc Piatek and Alea Anderson, Kristin and William Bergenty, Lindsey and Geoffrey Ferguson, Cory Piatek and his fiancé Danielle Ferrari and Jennifer and Justin Esposito; his great grandchildren, Marc Piatek Jr., Zeke, Avery and Reagan Bergenty, Jack Ferguson, Peyton and Maddox Esposito; two sisters Vilma Stifel and Irene Kramer and husband Raymond; and several nieces and nephews. He was predeceased by a brother William Balon and four sisters, Helen Dinda, Mary Kazokas, Margaret Mangone, and Catherine Piatek.
Funeral services will be held Friday (March 9th) 9:00 AM from the Farrell Funeral Home 110 Franklin Sq. New Britain, with a Mass of Christian Burial at 10:00 AM at St. Ann's Church North St. New Britain. Burial with Military Honors will follow in St. Mary Cemetery, New Britain. Visitation will be Thursday (March 8th) from 4:00 to 7:00 PM at the funeral home. The family would like to express their gratitude to VITAS Healthcare for their compassionate care and support during his final days, and to the management and staff at Shady Oaks Assisted Living for the wonderful care and treatment he received while at their facility. In lieu of flowers, donations may be made to the Wounded Warrior Project P.O. Box 758516 Topeka, KS 66675.
Proudly Serving the Communities of New Britain, and surrounding areas.