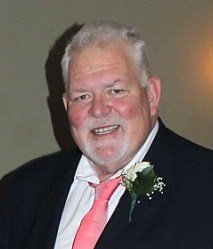 Obituary of Peter Humphrey
Peter Dunn Humphrey, CEC, 61, of Kensington passed away in his sleep on Sunday, October 1, 2017. Born in New Britain on May 8, 1956, he was the son of the late Postmaster William Humphrey and Marie Sullivan Humphrey. Peter was a 1974 graduate of Berlin High School. He received an Associates Degree from Manchester Community College. He went onto further his education at the Culinary Apprenticeship Program at the Greenbriar in White Sulpher Springs, WV, where he studied under the famous Chef Herman Rusch. Peter was very proud of earning the status of certified executive chef. He worked at many prestigious locations in the U.S. Locally, he used his culinary expertise at the Stouffer Westchester Hotel, Heritage Inn, Avery Heights, Hartford Whalers, St. Francis Hospital, Mohegan Sun Casino, and Hopkins School. Peter retired after being a culinary instructor for the State Technical School System.
Peter is survived by two sisters, Ann Malafronte Emmendorfer and her husband Edward of Southington, CT and Rosemary Vasil and her husband Robert of Kensington and their children Melissa Miller and her husband Jason and their daughter Grace, and Peter's special nephew, Kenneth Vasil of Kensington.
Peter also leaves five nieces from out of state, Elizabeth Hildelbrand, Heather Rankos, Katelyn Girsch, Lauryn Humphrey and Jacklyn Humphrey. He was predeceased by a brother William G. Humphrey.
As a kind, generous and caring man, Peter touched the hearts of all he knew. He will be sadly missed by his family and his numerous cousins, friends and neighbors.
Peter was an active member of the Meriden Motor Boat Club and had served as a coach for the Special Olympics Mid-State basketball team for several years.
Funeral services will be held Thursday Oct 5th at 9:00 AM from the Farrell Funeral Home 110 Franklin Square New Britain with a Mass of Christian Burial celebrated at 10:00 AM at St. Paul's Church 485 Alling Street, Berlin. Burial will follow at South Burying Ground, Berlin. Visitation will be held Wednesday Oct 4th from 5:00 PM – 7:00 PM at the funeral home. In lieu of flowers donations may be made to Special Olympics 2666-1 State Street Hamden, CT 06517.
Proudly Serving the Communities of New Britain, and surrounding areas.