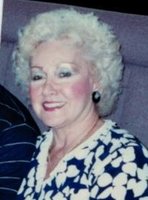 Emily G. Bellantuano
Emily G. Bellantuano, 97, of New Britain passed away peacefully Sunday (May 19th) at Grandview Nursing Home. Born in Scowhiggen, Maine she was the daughter of the late Winfield and Susan (Foss) Gallagher. She was the wife of the late Vincent Bellantuano who died October 20, 1997. She relocated to New Britain at the age of 25and worked as LPN having worked at both St. Francis and Hartford Hospital as a private duty nurse.
Mrs. Bellantuano is survived by her daughter Sheila Power of St. Augustine, FL; along with several grandchildren, great grandchildren, and great great grandchildren.
Family and friends are invited to a Graveside Service on Thursday (May 23rd ) at 1:30 PM at Fairview Cemetery (Section 35) 120 Smalley St. New Britain. In lieu of flowers donations may be made to a charity of donor's choice.