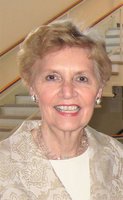 Florence Peasley
Florence (Kristopik) Peasley, 89, died peacefully at Ledgecrest Health Center on December 9th. Florence was born in New Britain to Helen and Valerian Kristopik on November 17, 1929. She graduated from New Britain High School in 1947. She was the secretary of the senior class, President of the Girls League, and a representative from her town to Laurel Girls State. She graduated from the University of St. Joseph with a B.S. in Science in 1951.Her college yearbook noted her love of biology, and she graduated with academic honors in her favorite subject.
Florence started her work career as a medical technologist, and ended it as a special needs paraprofessional educator in the Berlin Public Schools. Florence married the love of her life, Harold "Hank" Marvin Peasley on July 5, 1952 and they enjoyed 64 years of marriage until he died last April. Florence was a member of Saint Paul's Church since 1966 when she and Hank moved to Kensington.Florence enjoyed travelling with her family, reading books, tailoring clothes, cooking gourmet meals, singing in the St. Paul's church choir, and gardening club activities with the Berlin Garden club. She loved summer picnics at Trinity Carillon and Tanglewood, and following all the musical activities of her granddaughter, Leah.
Her brothers Robert, John, Eugene, and Herman predeceased her. Florence leaves her daughter, Nancy Peasley Driska, her son John, a cherished granddaughter, Leah (Michael) Lee, and a beloved sister, Jean Cannarella ( Leo Moran). She leaves her Maine family and many nieces and nephews, including a special niece, Karen Kristopik who made many lunchtime visits. Her family would like to thank all the caregivers at Ledgecrest Health Center who cared for her for the last year and a half. Many thanks to the Masonicare Hospice team whose compassionate care made her comfortable during the last weeks of her life, and gave consolation to her family.
Family and friends are invited to funeral services this Friday (Dec.14) at 11:00 AM at the Farrell Funeral Home 110 Franklin Sq. New Britain. Burial will be private at Maple Cemetery alongside her husband. Calling hours will be held Friday morning from 10:30 AM until the service. In lieu of flowers the family asks that any donations in honor of Florence be made to Masonicare Home Health and Hospice, ℅ The Masonic Charity Foundation of Connecticut, 74 Cheshire Road, P.O. Box 70, Wallingford, Ct. 06492. We love you to the moon and back Mom, and hope you are dancing, once again, with Dad in heaven.