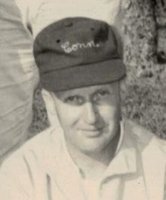 Thomas C. Walsh Sr.
Thomas C. Walsh, Sr., 91, of New Britain, died Monday (Jan. 1, 2018) at a the Jerome Home. Born in New Britain, he was a lifelong resident. A graduate of Yale University, he then earned a Master's Degree from RPI. He honorably served his country in US Navy. He spent his 40 year career as a Mechanical Engineer at Pratt & Whitney, was a very involved member of the Bell City Rifle Club in Southington and a member of St. Maurice Church. His wife, Elizabeth "Betty" Walsh passed away Jan 19, 1998.
Mr. Walsh is survived by his children, Eileen Pfahler of McMinneville, Oregon, Charles Walsh of Santa Margarita, CA, Rory Walsh of West Virginia, Christopher Walsh of Seattle, WA, Owen Walsh of Newington, Thomas and his wife, Sharon Walsh of Leonardtown, MD, Patrick Walsh of Cathedral City, CA, Michael Walsh of New Britain and Neil Walsh of Southington; 23 grandchildren, 4 great grandchildren; a brother, Robert Walsh of Plantsville, and several nieces and nephews. He was predeceased by his children David, Patricia, Kevin and Kathleen.
Funeral services will be held Thursday (Jan. 4, 2018) 9:00 AM from the Farrell Funeral Home 110 Franklin Sq. New Britain, with a Mass of Christian Burial at 10:00 AM at St. Maurice Church 100 Wightman Road New Britain. Burial will follow in St. Mary Cemetery, New Britain. Visitation will be Wednesday from 5:00 to 7:00 PM at the funeral home.