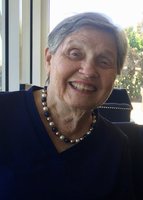 Mary Martin McQuillan
Mary Martin McQuillan, aged 85, of Boca Raton, FL, died on Tuesday, December 19, 2017, at the Hospice by the Sea in Boca Raton, FL. The daughter of the late George C. and Celeste (Coupé) Martin, she was born and grew up in Washington, DC, and attended Blessed Sacrament Elementary School, Holy Cross High School, and Immaculata Junior College. On July 24,1954, she married Paul J. McQuillan at the Shrine of the Most Blessed Sacrament in Washington, DC. Mary was a devoted wife, mother, and grandmother. She provided dedicated service to St. Francis of Assisi Church and Hospital For Special Care. She started and co-owned GraMar Estates, enjoyed golfing with friends at Shuttle Meadow Country Club, playing bridge and participating in many social and charitable organizations.
Surviving loved ones include her children, Mary Celeste (Richard) Bianco, Anne Louise (Peter) Vroom, Aileen (Dennis) LaGanza, Martin (Kerri) McQuillan, Julia (Stephen Lahey) McQuillan, and Megan (Vance) Lenzi; grandchildren: Jamie Bianco, Emma Vroom, Paul Bianco, Jack Vroom, Olivia LaGanza, Elise Lenzi, Maeve McQuillan, Matthew LaGanza, Kevin Lenzi, Bridget McQuillan, and Thealouise McQuillan Lahey; Great grandchild, Jamison Alexander Bianco; sister Jeanne Heath; and brothers George C. Martin Jr. (Anne) and Joseph P. Martin; and several nieces and nephews. She was preceded in death by her loving husband of 50 years, Paul J. McQuillan, and her brother, Francis Xavier Martin.
Funeral services will be held Saturday (December 30, 2017) starting at 9am from Farrell Funeral Home, 110 Franklin Square, with a Mass of Christian Burial at 10 a.m. at St. Francis of Assisi Church, 1755 Stanley St., New Britain, CT. Visitation will be Friday from 4 to 7 p.m. at the funeral home. In lieu of flowers, donations may be made to Hospital for Special Care, 2150 Corbin Ave, New Britain, CT 06053.