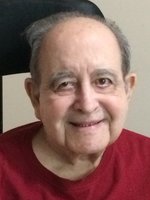 Carlos Carreras
Carlos Carreras, 90, of Bristol, died Tuesday (Dec. 26, 2017) at an area convalescent home. Born in Santiago de Cuba, a graduate of Wingate College in North Carolina, he came to this country in 1953. Carlos was an Export Administrator for American Hardware, P. & F. Corbin, Emhart Industries and more recently, for Black and Decker for 32 years. He was a member of the Appalachian Mountain Club and enjoyed the libraries in New Britain, Bristol and Plainville. He was a communicant of St. Gregory the Great Church in Bristol.
Mr. Carreras is survived by his wife Wilma (Yauck) Carreras, two daughters, Carleen and her husband Tom Mabry of Bethany, Karen and her husband Brian Hubbard of Westfield, MA; four grandchildren, Sarah Hubbard, Erika McCarthy, Megan Harrington and Brandon Mabry; a great granddaughter Ella, a sister Montsserat Giddings of St. Petersburg, FL, and several nieces and nephews.
Funeral services will be held Thursday (Dec. 28, 2017) with visiting hours from 9:00 to 10:00 AM at the Farrell Funeral Home 110 Franklin Sq. New Britain. A Mass of Christian Burial will be Thursday at 11:00AM at St. Gregory the Great Church 235 Maltby St. Bristol. Burial will follow in St. Joseph's Cemetery, Bristol. In lieu of flowers, donations may be made to St. Gregory the Great Church.