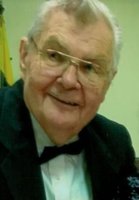 Joseph Liudzius
On Tuesday, December 12, 2017 at the Hospital of Central CT, Joseph Liudzius, 85, of New Britain, passed away peacefully, holding his beloved "Bette Ann's" hand while listening to his favorite polka music.
He leaves behind his wife Elizabeth "Bette Ann" Liudzius of 61 years, his daughter Virginia Liudzius Osborne, son Joseph Liudzius and daughter-in-law Joyce; daughter Teresa Dupont (Liudzius) and her fiancée Scott MacDonald, son Raymond Liudzius and daughter-in-law Dianne; his cherished grandchildren, Kevin Liudzius and wife Danielle, Becca Liudzius, Matt and Miranda Dupont, Tori and CJ Osborne, Adam and Ryan Liudzius, Kassie DiFazio and her husband Anthony. He was predeceased by parents Jonas and Prane Liudzius and his sister Danute.
Joe was born in 1932 in Sakai, Lithuania and came to America with his parents in 1949 where he obtained his American citizenship. He was proud to serve his country in the Army during the Korean War where he achieved the rank of Corporal. He was employed by Stanley Works as a draftsman for 15 years. He was then a co-owner and machinist at Pro-Ma Associates until he retired at the age of 62.
Joe was a member of the Lithuanian American Community of New Britain (Bendruomene); Knights of Lithuania Council 6, 3rd Degree and the Lithuanian Scouts (Vyciai). He was an active member and liturgical reader of St. Andrew's Church, Rosary society, and sang in the Senior Choir. He was an avid beekeeper, raguolis baker; krupnikas maker and he made the best potato pancakes ever! He loved to play his accordion and played his button box at every birthday celebration. He treasured his Thursday nights when his family and friends would gather to eat, drink, share many laughs and "discussions" around the fire, and periodically "check the bees." He loved to teach Lithuanian words and various types of facts that he found interesting, along with his many life philosophies such as "it could always be worse." He loved nature and being outdoors. He felt so blessed and grateful to have the life he had. Anyone who crossed his path would immediately love and befriend him. He will be sorely missed by all. In heaven there is no beer…but now krupnikas is flowing there!
Special thanks to the wonderful staff on C5, especially Jordyn, Melissa, Mary Jo and Marcie as well as Wayne Rioux, a veterans' liaison, who paid special tribute to Joseph for his military service to America.
Funeral services will be held Saturday (Dec 16th) 8:30 AM at the Farrell Funeral Home, 110 Franklin Sq., New Britain, with a Mass of Christian Burial at 9:30 AM at St. Andrews Church, 396 Church St, New Britain. Burial will follow in St. Mary Cemetery, New Britain with Military Honors. Visitation will be Friday from 4:00 to 7:00 PM at the funeral home. In lieu of flowers, donations may be made to Sisters of the Immaculate Conception of the BVM, 600 Liberty Hwy, Putnam, CT 06260 or Camp Neringa, Inc., 147 Neringa Rd Brattleboro, VT 05301.