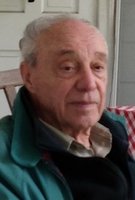 Stanley E. Chapman
Stanley Ernest Chapman, 89, of New Britain, Connecticut died Monday, December 11. He was the son of the late Ernest and Sarah Hughes Chapman of New Britain. A devoted and beloved husband, father, and grandfather, he passed from this life with his daughters by his side. His wife, Catherine, of 51 years predeceased him in 2009.
Born May 4, 1928 in Bridgeport, Connecticut, he moved to New Britain at the age of three where his family owned and operated the Ernest Poultry Farm. At the age of fifteen, along with sixteen Boy Scouts from the New Britain Area Council, he became one of the first persons in over 200 years to follow the 99-mile Mishimayagat Trail from Harvard University in Cambridge to the City of Hartford. It was the same trek made by Pastor Thomas Hooker that resulted in the founding of the capital city. As part of the journey, he swam west across the Connecticut River and was ceremoniously greeted in Hartford by the sitting Governor of Connecticut, Raymond Baldwin.
Before graduating from New Britain High School, Class of 1947, he earned the rank of Eagle Scout. He embodied his commitment to scouting and its ideals throughout his life, first becoming an Assistant Scout Master of his former troop while raising two daughters, and then while in his 80's, when he saved a drowning lifeguard at the New Britain-Berlin YMCA pool. His age and health precluded him from jumping in the water, but he did the next best thing: he organized the rescue, and received a plaque from the YMCA for doing so.
After leaving high school, he embarked on a short stint as a business entrepreneur which ended shortly before being drafted into the Korean War. Stationed at Fort Bliss, Texas and White Sands Missile Range, New Mexico, he served stateside in the United States Army Signal Corp as a Corporal between 1952 and 1954. It was through his military service that he became a certified Amateur Radio Station Operator, a hobby he enjoyed throughout his adult life. He was licensed through amateur radio, a forerunner to global digital access communication, to advance communications between communities, aid workers, and nations during times of natural disasters and other crises. He held certification as an Advanced Class Amateur Radio Station Operator/Station, and was a member of the Amateur Radio Association Ten Meter Band, American Radio Relay Team, Swamp Yankee Network, and the Southern New England Nutmeg Chapter Amateur Radio Association and its 10-10 International Net, operating under the call letters W1WZE. Through amateur radio, he developed a global network of engagement and fellowship throughout the English-speaking world.
In 1958, he graduated from the Ward School of Electronics of the University of Hartford as a certificated Instrument and Engineering Technician with specialties in Communications and Industrial Technologies. A consummate craftsman who enjoyed designing and building objects out of wood and diverse metals, he ultimately became a union tradesman designing and fabricating duct work for heating and air conditioning ventilation units. His work gave him a gratifying role in building and maintaining some of the major commercial developments throughout Hartford and Connecticut in the 1960's and 1970's, including Constitution Plaza, the Hartford Civic Center, the UCONN Health Center, the Millstone Nuclear Power Plant, numerous hotel complexes, and several keystone buildings of the Travelers Insurance Co.
He was affiliated with St. Francis of Assisi Church, New Britain, for over four decades where he and his wife served socially in numerous leadership capacities, including as an officer of the "Mr. & Mrs. Club". He was a former President of the Parent-Teachers Association of the former Stanley School, his alma mater, and he served in leadership roles with local amateur radio clubs. He was an active participate in several New Britain High School Reunion Committees, served on the Belvidere Reunion Committee, and was periodically engaged with campaigns to clean and beautify the City of New Britain. A generous friend to all, his neighbors and acquaintances knew to "Go ask Stan" if they ever needed a specialty tool, or just a helping hand.
He, and his wife and daughters spent their leisure time sailing, first on Lake Wononscopomuc in Lakeville, Connecticut, where he learned to sail, and then in Mystic, where the family spent over twenty-five years sailing the family boat, "C-scape" in Long Island Sound, between Point Judith, Block Island, and the Mystic River.
He is survived by his daughters, Deborah Chapman of Southington, Connecticut, Pamela Chapman of Portsmouth, Rhode Island; two grandchildren, William Parsons and Emily Parsons, both of Portsmouth, Rhode Island; a niece, Patricia Zenner of Perrysville, Ohio and her husband Frank; four nephews – John J. Brennan III of Dover-Foxcroft, Maine and his wife Dorothy, William Brennan of Pittsburgh, Pennsylvania and his wife Judy, James Brennan of Murrysville, Pennsylvania and his wife, Kristin; and Daniel Brennan of Colorado Springs, Colorado and his wife, Kathryne; eight grand nephews; and four grand nieces.
He was pre-deceased by his sister, Violet Chapman Brennan.
Calling hours will be held on Saturday (Dec 16) from 11:00 to 1:00 PM with a service at 1:00 PM at Farrell Funeral Home, 110 Franklin Square, New Britain, CT. Burial will be privately held with military honors at St. Mary's Cemetery, New London. In lieu of flowers, donations may be made in his memory to a philanthropy of choice.