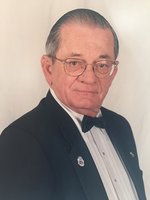 Ralph F. Hedenberg Jr.
Ralph Francis Hedenberg Jr. passed away at home on November 26, 2017. Born in New Britain on February 20th 1938, he was the son of the late Ralph F. and Anna (O'Connell) Hedenberg. He was predeceased by his wife Brenda (Gaffney) Hedenberg in 2009 and sister Kathleen (Hedenberg) LaRocca in 2005. He graduated St. Joseph's school, attended New Britain High School and graduated from Cheshire Academy. He attend Bradley University in Peoria, IL and graduated from Quinnipiac University in 1968. He served in the 76th Division (Training), United States Army Reserve in West Hartford, CT.
Ralph's career began as an Assistant Golf Profession at Shuttle Meadow Country Club. Later he was employed by Connecticut Light and Power for almost a decade as an Area Development Representative. He retired in 1996 from the State of Connecticut after 22 years as a Senior Regional Manager with the Department of Economic Development. After retiring from the State, he served the Town of South Windsor as the Economic Development Coordinator for a number of years. He held multiple municipal offices in New Britain, serving on the Board of Alderman, the Majority Leader Board of Alderman, President and Vice-President New Britain Board of Education, and the Chairman of the New Britain Board of Finance.
He was active in many organizations in the New Britain area, to include a Life Member and Past Exalted Ruler of the New Britain Lodge of Elks #957, Past President of the Connecticut State Elks Past Exalted Ruler Association, Vice President of the New Britain Jaycees, Director of the Connecticut Jaycees, Charter Member of Saint Maurice Church, Corporator New Britain Boys and Girls Club, Corporator New Britain YMCA, and a member of Shuttle Meadow Country Club.
He is survived by his daughter Ruthann Fainer and husband Joseph, son Ralph and wife Laura, daughter Lynda Thornton and husband Ed, sister-in-law Judith Gaffney, and ten grandchildren – Joseph II, Megan, Sarah, Erin, Brendan, Keira, Aislyn, Casey, Kayleigh, and Alexander.
Funeral services will be held Thursday (Nov.30, 2017) 9:00 AM from the Farrell Funeral Home 110 Franklin Sq. with a Mass of Christian Burial at 10:00 AM at Katharine Drexel Parish (St. Maurice Church) 100 Wightman Road New Britain. Burial with Military Honors will follow in St. Mary Cemetery, New Britain. Visitation will be Wednesday from 4:00 to 8:00 PM at the funeral home. Members of the New Britain Lodge of Elks #957 will meet Wednesday at 5:30 PM for a ritual in Ralph's honor.