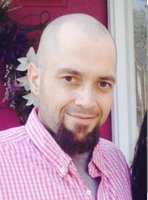 Jason Craig Monahan-Napoletano
Jason Craig Monahan-Napoletano , 41, of Southington, died Monday (November 20, 2017), at the Hospital of Central CT in New Britain. Born in Bristol, he lived in Bristol and New Britain throughout his life and resided in Southington the last eight years. He was a stay at home Dad, since the birth of his son, Dominick, whom he loved to watch play baseball. He was also an avid dog lover and fisherman.
Jay is survived by his wife, Julia Napoletano, his son, Dominick, his son Jaylon McKee of Plainville, his fur babies Tank and Mercy, his grandmother Harriette Carpenter of Bristol, his mother Theresa Calabro of Middlebury VT, his sister Jessica Monahan and her children Joshua, Jasmine and Jase of New Britain, his brother Scott Bullard of Hartford, his brother Darren Ramos and his wife Jessica D'Anzi Ramos and their son Donovan of Berlin, and his Uncle RJ and Aunt Lynn Carpenter of Orange Mass, his cousin Kate Carpenter of Philadelphia PA and his cousin Matthew Carpenter Dupont of WA. He was pre deceased by his grandfather, Ralph John Carpenter.
Funeral services will be held Saturday (Nov. 25, 2017) 9:00 AM from the Farrell Funeral Home 110 Franklin Sq. New Britain, with a Mass of Christian Burial at 10:00 AM at St. Dominic's Church 1050 Flanders Road Southington, CT. Burial will be at the convenience of the family. Visitation will be Friday from 4:00 to 7:00 PM at the funeral home. Donations may be made to the Dominick Napoletano Education Account c/o Webster Bank 665 West Main St. New Britain, CT 06053.